It is paramount for every licensing solution to be able to sync with back-office systems such as ERP and CRM, which typically contain the master customer database and/or legacy licensing data. SLASCONE's modern, API-first architecture ensures that you can easily integrate it in your sales process, from lead generation and trial up to ordering and license generation.
Using a workflow automation solution, such as Azure Logic Apps, Microsoft Power Automate or Zapier simplifies the integration process.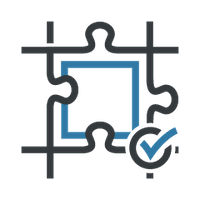 All SLASCONE functions can be called through our API.
Webhooks for all relevant events. Easy configuration of which events to capture.
Microsoft Power Automate (Flow) or Azure Logic Apps
Create automated workflows between your ERP/CRM system and SLASCONE, with our Microsoft certified connector.
Out of the box integration with Dynamics 365.